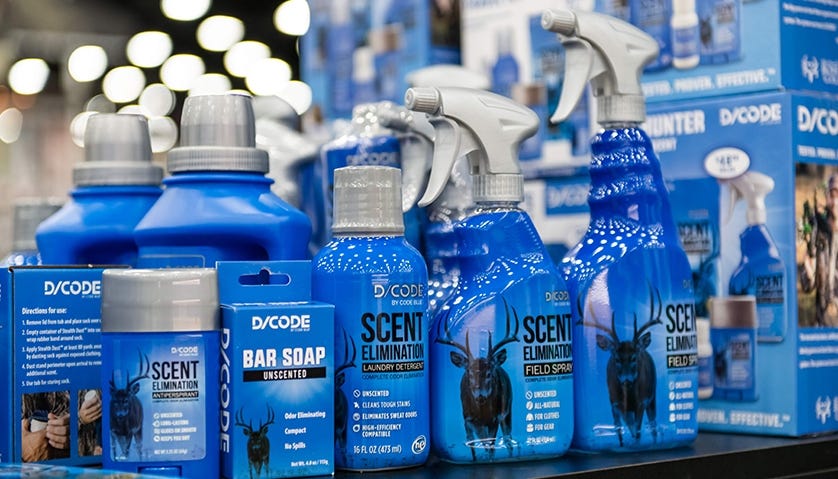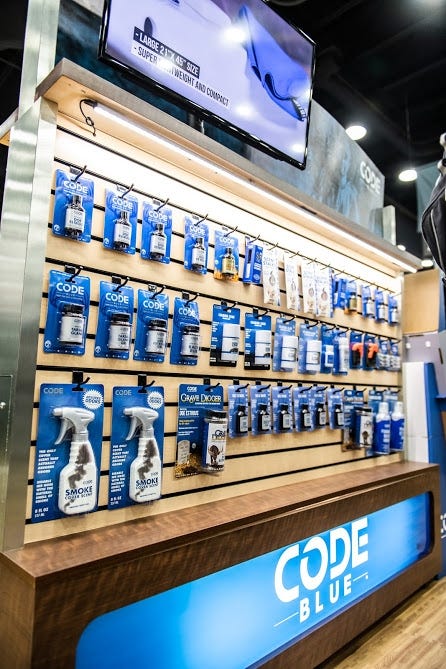 It didn't take long for the crowds to start gathering outside of the Code Blue booth on Friday, January 11 at the Archery Trade Association (ATA) Show in Louisville, Kentucky. The entire Bone Collector crew (Michael Waddell, Nick Mundt and Travis "T-Bone" Turner) came by to check out the line-up of new products from Code Blue, as their fans quickly gathered around to hear what they had to say.
One of the first products that caught the Bone Collector's eyes was the new Compression Bags from the D/CODE line of scent-elimination products. This handy product allows hunter to store their freshly washed and unscented hunting clothes in a scent-tight compression bag for easy storage prior to the hunt or after the hunting season. The large 20x28" bags will hold bulky cold-weather outer layers all the way down to socks and underwear. Each package comes with 4 of the large bags, so that you can easily keep your clothing sorted in base layers, sock, jackets, etc. The best part of the compression bags is the one-way valve that allows you to hand-roll the bag to squeeze out all of the air. You never need a vacuum to suck the air out, simply seal, roll up and you're done. A 4-pack sells for $12.99. Check out the Bone Collector's favorite new D/CODE products at ATA.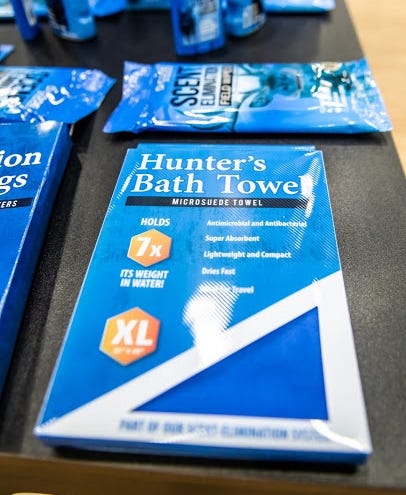 D/CODE also launched a super-absorbent Microsuede Towel for hunters on the go. This camp towel absorbs 7X its weight in water, dries fast, and can be washed with D/CODE unscented laundry soap and stored with your scent-free hunting clothes. D/CODE also released an odor-destroying Bar Soap and scent-free Camo Face Paint.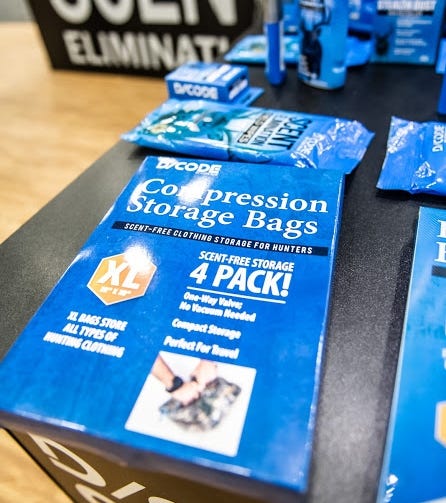 Code Blue has launched a new line of synthetic deer scents for 2019 — the best part is they are legal to use in areas where real urines have been banned. The new Synthetic Doe Estrous Scent Stalks are impregnated with doe estrous scent, will last for 8 to 10 days, are reusable and do not need to be ignited to work. Simply hang a Scent Stalk with one of the included wire hangers from a tree limb or stick the stalk into the ground during your hunt. Scent Stalks are available online now. Code Blue's Synthetic Pre-Orbital Gland scent is new and is ideal for creating a licking branch above a mock scrape or for freshening a licking branch at existing scrape near your hunting location. Code Blue rounded out its synthetic lineup with Doe Estrous, Doe Urine and Buck Urine scents, too.
There are a lot of great products being launched in 2019 with Code Blue and D/CODE. Be on the look out here on the website and in your local retailers.
Click HERE to see all the new products for 2019.