Overview
D/CODE™ offers a scent-free storage option for your hunting clothes with the D/CODE™ Compression Bag. The large 20"x 28" bag features a double-zipper design and one-way valve for quick and easy scent-free storage. Use the D/CODE™ Compression bags after washing your clothing in scent-eliminating laundry detergent or after treating your hunting clothes with an ozone bag. Have the satisfaction of knowing that your hunting clothes are free from scent by storing them in an airtight compression bag during the entire offseason or for your next hunting trip. The D/CODE™ Compression Bag comes in an economical 4-pack, which offers plenty of room to store a heavy jacket, base layers, socks, pants and more. Travel is a breeze with our compression bag's one-way valve system. Once air is rolled out of the bag, the compressed size allows you to store more gear — scent free — in your luggage. And because our bags don't require a vacuum to remove air, you can easily roll all your hunting gear back into the compressed bags for easy travel home from camp.
Specifications
4-pack
Easily stores large jackets, pants, base layers, socks and more
One-way valve; no vaccum needed
Compact storage
Perfect for travel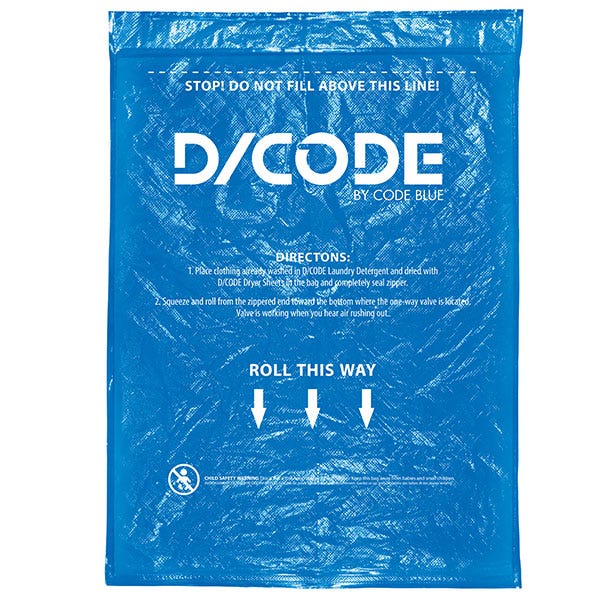 D/CODE Compression Bag
One of D/Code's Newest Edition
The D/CODE line of products were designed to destroy scent and maintain scent-free clothing and gear. The D/CODE Compression Bags fit perfectly into the scent-free D/CODE lineup. The large 20"x28" airtight bags will hold your largest cold-weather layers on down to your baselayers and socks. The double-zipper design locks air out, while the one-way valve purges air from the inside. Hunters who fly and travel long distances to go hunting can easily fit all of their hunting clothing into one checked bag after compressing them in the D/CODE Compression Bags.
How to Use
You simply fill the bags with your hunting clothes, press zippers closed and begin hand rolling the bag toward the bottom. You'll hear the air rushing through the one-way valve during compression. Once all the air is squeezed out, the bag will be less than half its original size and can be stored scent-free and airtight until next hunting season.
Economical 4-Pack
The bags come in an economical 4-pack so that you can sort your clothing into tidy groups that make access easy while on the hunt. Stop toting around large plastic tubs for all of your hunting clothes and start storing them scent free in D/CODE Compression Bags.
Easy Compression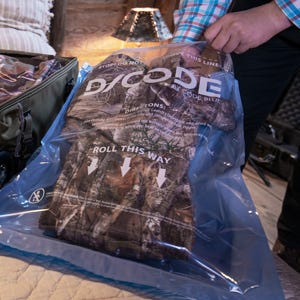 Scent-Free Storage
No more filling the bed of your truck with plastic tubs full of hunting clothes. Now you can easily and effortlessly store all of your hunting clothes scent-free. Place freshly washed and dried scent-free hunting clothes into bags, seal double zipper and roll bags to push air out. Now your hunting clothes are stored in an airtight plastic compression bag until next season or next weekend.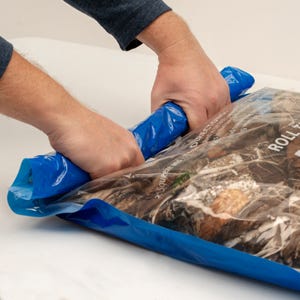 One-Way Valve
The one-way valve is the secret to the D/CODE Compression Bags. It will let air out, but not in. Simply close the double zippers and hand roll bag from zippers to bottom of the bag to release air through valve. Unlike other compression bags, you'll never need a vacuum to compress D/CODE bags.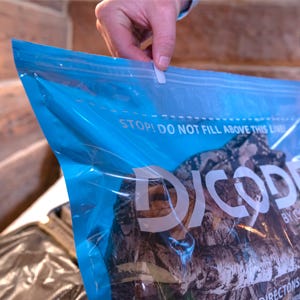 Double Zipper
The D/CODE Compression Bags are airtight. The double-zipper design ensures that each bag is securely sealed, meaning no scent is getting in. You have peace of mind when storing your freshly washed hunting clothes that they will be stored scent free and ready for your next hunt.
Easy Storage and Organization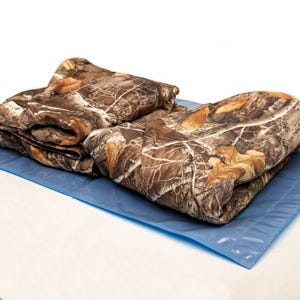 Large Bags
D/CODE Compression Bags are specially designed to fit your bulky cold-weather clothing as well as mid and base layers. Each bag measures a spacious 28"x20".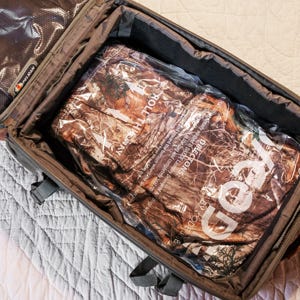 Perfect For Travel
D/CODE Compression Bags easily compress down to a 1/3 of their original size. Cut down on your checked luggage for flights by traveling with compression bags. Free up more space in your vehicle for long trips, too.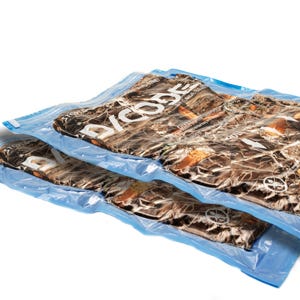 Great For Organization
The D/CODE Compression Bags come in an economical 4-pack, which makes organizing your clothing layers a breeze. Place bulky cold-weather layers in one or two bags, then mid layers, vest and shirts in another, while base layers, socks, etc. in a separate bag, and even store towels and miscellaneous clothes in another. Great for off-season storage, too.